In Local News… Although it doesn't feel much like...
In Local News…
Although it doesn't feel much like summer anymore, I'ma do a throwback post and talk about some stellar bands who I saw perform a few months back. As y'all know, summer is the best time for learning about new music because of all the music festivals going on (Bonnaroo, Pitchfork, Sasquatch, Coachella, which is in the spring but I'm lumping it in here anyway, etc).
HOWEVER, I was unable to attend any of those because I live in the BFE section of America, so instead of talking about how sick it was to see OFWGKTA or James Blake I'm going to spread the love for some local heroes and unsigned acts who I had the pleasure of seeing this year. I know that you all have friends who are in their own shitty bands, or perhaps you are the friend in said shitty band, and you do your part and go to their shows to support them and buy their $5 dollar cd with the terrible production where the drums are louder than the vocals, but you would never excitedly share that music with anyone else because it was good.
But I promise you, this is not a case of me making you listen to my boyfriend's awful Joan of Arc inspired art-rock three piece, the following artists actually are good, and their albums are recorded quite well for being done independently.
First off is the band Dial-Up, who are from Minneapolis and offer up sometimes dance flavored and sometimes strung-out sounding noise pop (lead singer Andrew Jansen is also frontman of the anti-folk A Paper Cup Band, also worth checking out). Here's a link to their bandcamp, or you can play the mp3 at the top of the page. 
Sorry guys I am still a tumblr n00b and am not sure how to have videos and mp3s all in the same post, so this is going to be a little less interactive than I was hoping. 
ANYWAY, next are some friends of mine who are in the band Victor Shores, which hails from Fargo, North Dakota. They sound like Fugazi meets At the Drive-in meets hardcore meets I don't know what. Here's a link for a youtube vid of them playing in Seattle. 
http://www.youtube.com/watch?v=UpFdj0PV8U8
bandcamp: 
http://www.victorshores.bandcamp.com
Next is the usually one-man band Johnny Unicorn. Here a a couple pics I took during a performance this past August: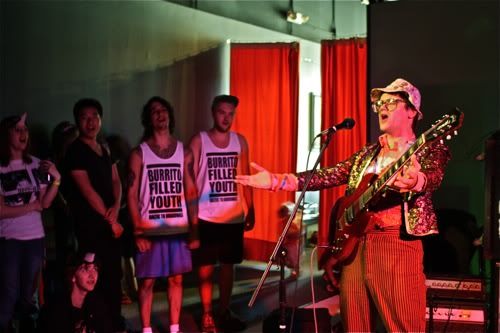 He is from Michigan and also plays the saxophone. **edit (J. Unicorn is now based in Seattle)
bandcamp: http://johnnyunicorn.bandcamp.com/
This is getting a little long so I'm going to rap up and leave you with these last two bands who are from Portland and Seattle. 
Southerly is from Portland via Madison, Wisconsin, and is mainly the project of Krist Krueger, a very talented guitar player who creates lush, orchestral folk that at times is reminiscent of Elliott Smith, only not so depressing.They are old school and don't have a bandcamp, so here's their myspace link: http://www.myspace.com/southerly/music
Lastly is family band Youth Rescue Mission, who play real nice harmony-driven folk songs. I actually didn't see these guys play this summer, but a few friends did when they were in Seattle. I've had their self-titled debut in heavy rotation the past few months. 
bandcamp link:  http://www.youthrescuemission.com
Here they are, they look nice.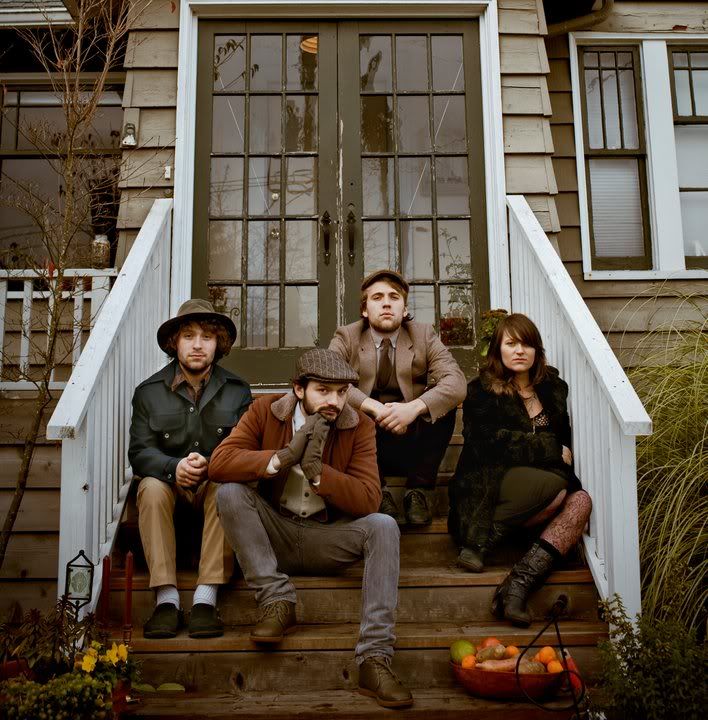 Any artists you love but no one else in the world has heard of? And I'm not talking about that obscure Lightening Bolt EP you show off to look cool, I'm talking about bands from your hometown or who you saw at a local music venue and you thought were amazing but who haven't yet had their big break. Maybe show them some love on your radio show? I wanna hear about them!
-Anna
                    I was able to interview Neil Evans, a member...
I was able to interview Neil Evans, a member of both Soulive and Lettuce, at this years Camp Bisco Music festival. We sat down in the Press Tent just before Lettuce's Saturday set to talk about the band, their style, and what they have in store for the remainder of the summer. Stay tuned for a full-length video interview with Neil as well as more with Lettuce and other bands from the festival.
Sam
Video
La Sera - Never Come Around This is dope, adorable, and making...
La Sera - Never Come Around
This is dope, adorable, and making serious rounds on the internet. Enjoy.
Let me start by mentioning my discomfort with the Arcade...
Let me start by mentioning my discomfort with the Arcade Fire's metamorphosis from DIY darlings to corporate-sponsored arena giants (American Express and Vevo recently paid for the band's MSG concert to be broadcast on YouTube). With that said, it's hard to deny the power of this performance and this song. -DSF
Q2 2010.
Yo so its been a while anyone who might read this…
But we're nearing the half mark in the year and boy do I have a lot of music to share with everyone. Hope fellow WHCL bloggers will contribute their midyear favorites as well.
Alright. Here we go
Local Natives - Gorilla Manor
Hats off to these guys, reforming with a new name, new harmonies, great percussion and overall my current favorite album. From the energetic Sun Hands and Camera Talk to the gorgeous Who Knows, Who cares, these guys have chops. Seeing them next week.

Sleigh Bells - Treats
Alt Nation (sirius xm) DJs warn you to turn your stereo down for this loud, experimental band who is so out there, you want to float with them in space.
The Radio Dept. - Clinging to a Scheme
Heaven's On Fire is my current pick for song of the year, call me crazy. With a mini lecture on youth culture and the catchiest synth beat ever, the Radio Dept. have created quite the sleeper hit.
Delorean - Subiza
A peak into the future of pop music. What is Balearic music? Good old Wiki tells you its the beach rave sound, specifically of the island Ibiza. Subiza is clearly a nod to that beautiful Spanish locale. These guys make uplifting party tunes that are just sick.
Titus Andronicus - The Monitor
Revitalizing Punk. From a Pseudo-Cover of Springsteen's Born to Run to some of the most ruckus music to hit my ears in years, I have hope for a genre that fell to Fall Out Boy and that whole pop-punk-emo scene in early 2000's. These guys are Rebels.
The National - High Violet
What do you expect. They are the National. They swing for the fences, and never miss. They are a band free of genre tags in a world of hipster snobbish stereotypes (Vamp Weekend cough) yet at the same time, they are leaders in the indie world with another great album that will appease new and old fans alike.
LCD Soundsytem - This is Happenning
Yo, for real, James Murphy is the Fucking Man. Hate to quote p4k but they say it so well. "At first, Murphy showed how to let loose without losing your cool; now he's figuring out how to break down without cracking up." yeah, He's the man. 
The Tallest Man on Earth - The Wild Hunt
If you enjoy all that is beautiful in the World, including beautiful music, you will like this album, simple as that.
Janelle Monáe - The ArchAndroid
DAYUM. Girl's got some pipes. seriously, biggest surprise of the year for me, this album hit me outta no where, then turned me over and made me it's bitch, it is that powerful and precisely executed. Diddy actually has some talent on his label now.
Chiddy Bang - Air Swell EP
Hey London is my rap song of the year. By far. This little EP is a great follow up to the man who brought us "The Opposite of Adults". With a remix of Stylo, a feature by Ms. Kate Nash" Chiddy Bang has shown he means business, and business is good.
Wait What - The Notorious XX
British trippy indie with 90's rap? not the first time (The Grey album). This time it's actually good and not just a good idea. The mashups work well and they incorporate more xx lyrics than Dangermouse did for the Beatles. Shit is real…. wait what? yeah.
I told you there was a lot.
Stuff from Q1 that still sticks
Yeasayer - Odd Blood
Broken Bells - S/T
Morning Benders - Big Echo
Vampire Weekend - Contra
Beach House - Teen Dream
Gorillaz - Plastic Beach
Looking forward to more music. The economy still sucks, but this year has certainly been a good year for music so far. Much more to come, Arcade Fire and Matt & Kim headlining my looking forward to list.
-z.
-Cliff
-Cliff
Don't Come Around Here No More- Tom Petty This song is the...
Don't Come Around Here No More- Tom Petty
This song is the most criminally underrated classic rock song.  As well, it is a song that provides insight into the cultural trends of today.  Note the sketchy drum machine beat, random synths and the Alice in Wonderland spoof music video that suggests that Petty was a "proto-chillwave" visionary, documenting the same trippy topics addressed today by Neon Indian. Perhaps "Should Have Taken Acid With You" is about Tom Petty. In a completely unrelated observation, the costumes of the females in this video are awfully similar to those of Lady Gaga.  Everyone knows that The Strokes ripped off "American Girl" for the classic "Last Nite," but seriously, Petty should be taking credit for much of the hype going around in 2010.  
-Henry
Our assistant general manager, Cliff, setting up for Passion Pit...
Our assistant general manager, Cliff, setting up for Passion Pit & Dirty Projectors -DSF
Some photos from today (Class and Charter Day 2010) -Cliff
Some photos from today (Class and Charter Day 2010)
-Cliff
Craig Finn is a genius. He must be.
I'm hesitant to post this because today has had more than its fair share of posts and i don't want to step on other people, but i just found this on a message board and thought it needed to be shared:
from BTX, a Springsteen board that i occasionally read, in regards to The Hold Steady's new release Heaven is Whenever:
 Holly is the main character of pretty much every album and there are people on The Hold Steady fan board making the case that Holly and Jessie (of Hurricane J and several other songs) are actually the same character in many ways. Now, they're assuming that Holly died in this album of her drug abusing and partying (from the final song, whose name escapes me) and we know that she died at the age of 33 (from Stevie Nix), therefore 2010-33, means she was born in 1977. Because it's very early in the year, it means she was probably conceived in fall of 1976. There's a line in Hurricane J that says "they didn't name you after the saint, they named you for a storm." Now, would anyone want to look at the list of Hurricane list of 1976? Well, the last storm that year was, in fact, Hurricane Holly.
Now believe that or not, its pretty damn awesome.
-Jack 
"Promises" by The Morning Benders has been on repeat on my...
"Promises" by The Morning Benders has been on repeat on my iTunes for the last week. Here's an chill acoustic session.
Enjoy!
-Cliff
In case you forgot how popular Oasis was in England at their...
In case you forgot how popular Oasis was in England at their peak, here is the companion video (Roll With It) to my last post.  Starting in 2000, Oasis would release a bunch of shit records no one really cares about as they approached the musicality of Nickelback.  I'll grudgingly admit I'm a fan of their early stuff… (sort of a guilty pleasure). 
Is it uncool to be in a popular band?
What happened to British music?
Is anthemic rock dead?  Did you ever 'sing-a-long' to "Comfy in Nautica"?
Are you sad that Oasis broke up?  (did you know they broke up?)
Is it "better to burn out than to fade away"?
Should the xx have a concert at Maine Road? 
15 years ago, during the summer of 1995, a battle raged on...
15 years ago, during the summer of 1995, a battle raged on between two bands leading the so-called Britpop genre.  One day they decided to each release a single on the same day (August 14th) and 'battle' it out.  Oasis released "Roll With It" and Blur released "Country House," which won out, topping the UK charts at #1, while Oasis only made it to #2.  Long before Damon Albarn hid behind a cartoon to make Gorillaz's P-fork approved music, he was busy dressing up in British schoolboy outfits.  Call me crazy, but I like it better.
-Henry
A ton of new music coming about this month.  Here is...
A ton of new music coming about this month.  Here is potentially the best song of 2010 in my humble opinion. Surprisingly, the best new song is not from Broken Social Scene's traditional leader, Kevin Drew, but from bassist/sometimes guitarist Brendan Canning. On this track off of their new CD "Forgiveness Rock Record" which came out yesterday, Canning serves up guitar rock in the tradition of indie rock greats Pavement and Dinosaur Jr. with an almost-Southern-tinged guitar riff and better singing than either J Mascis or Malkmus could ever attain.  
(note, it gets cut off a little before the end)
Enjoy!
-Henry 
I'm a Pilot - Fanfarlo Fanfarlo, a musical saw playing...
I'm a Pilot - Fanfarlo
Fanfarlo, a musical saw playing indie folk group based in London, England are poised to take the indie world by storm. The band consists of Simon Balthazar (vocals, guitar, clarinet), Cathy Lucas (vocals, mandolin, violin, keyboards), Leon Beckenham (keyboards, trumpet), Justin Finch (bass, vocals) and Amos Memon (drums). From their gorgeous cover of Neutral Milk Hotel's "In the Aeroplane Over the Sea" to their own magnificent music video of the single "Harold T. Wilkins or How to Wait for a Very Long Time," these guys have the kinda attitude and musical ability to grow and expand their fan base in the coming months.
The song I'd like to feature from their 2009 album "Reservoir" is I'm a Pilot. This song, as reported by an interview on Music For Kids Who Can't Read Good with Balthazar, uses over 100 guitars to achieve the necessary grand affect aimed for. This is inspired song about living your youthful moments and never looking back. The majestic strings accompany the steady, yet driving drums on top of those 100+ guitars that just make you want to throw your hands up and look to the sky. Because "Kid I'm a Pilot / It's all I believe in." Balthazar's voice soars over top with the emotion you want, but couldn't express.
Last.fm will tell you that Fanfarlo's most similar artists are Freelance Whales and Snow Club, However, with their use of orchestral instruments, I believe that Fanfarlo have a sound somewhere between Arcade Fire and Neutral Milk Hotel, with a tinge of The Talking Head's Vocals.
So why do I think these guys will be the next big thing?
Well, for starters, they kicked off the year with a tour on the West Coast definitely got people talking over there (I'm from Cali, I know), but I also believe that a posible new album by Arcade Fire will then draw attention to this band. They are unique, forward thinking and love experimenting. Expect big things in the new decade.
-media z
Stanley Clarke gettin' nasty with it. -Cliff
Stanley Clarke gettin' nasty with it.
-Cliff
If you <3 dogs who morph and rap then this is the video for...
If you <3 dogs who morph and rap then this is the video for you
Very fascinating and humanizing.  We don't realize how...
Very fascinating and humanizing.  We don't realize how lucky we are to rock out. 
-Henry
The amazing song from the majestic online Adult Swim game, Robot...
The amazing song from the majestic online Adult Swim game, Robot Unicorn! -Cliff